Electrical Works
Whether you require domestic, industrial or commercial electrical work, Oh yes is fully committed to professional and affordable electrical services. We carry out all aspects of electrical work, from design and consultation through to commissioning we are actively engaged in execution of electrical projects in hospitals, commercial complexes, apartments, banks and corporate offices.
What you can expect from us
Repair or replace wiring, equipment, or fixtures
Installation, repair, and maintenance of electrical equipment
Checking electrical faults
Installation of equipment
Electrical safety detection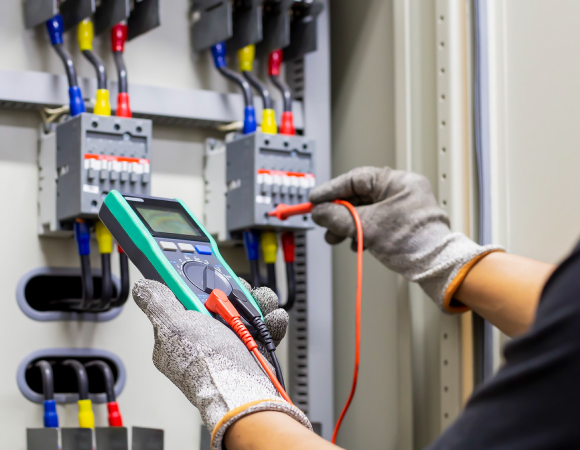 Don't worry about the rate. We charge a reasonable price only. The base price details are below
| | Service | Sub-Category | Base Price |
| --- | --- | --- | --- |
| 01 | REPAIR & MAINTENANCE | LIGHT | 300 |
| 02 | REPAIR & MAINTENANCE | FAN | 300 |
| 03 | REPAIR & MAINTENANCE | WATER PUMB | 300 |
| 04 | INSTALLATION | LIGHT | 300 |
| 05 | INSTALLATION | SWITCHES AND METERS | 300 |
| 06 | INSTALLATION | FAN | 300 |
| 07 | INSTALLATION | WATER PUMB | 300 |
| | | | |
FAQ For Electrical Services
Why do I have to pay an inspection/minimum charge?
You don't have to pay a minimum charge in all cases. Inspection charge compensates the provider for his travel expenses, time, and effort, in case you decide not to proceed with the work after inspection is done
How do I ensure the authenticity of electricians who delivers service at my place?
We have partnered with the most experienced electricians near your location, verified by Oh yes for their background, education, and experience. They are also trained for high levels of customer service
What does happen if the provider spends more time at my place?
Our partners will try to deliver the services in minimum time, so that they can take up the next customer request, and thus earn more money. Our charges are defined in such a way that the more time they spend at a specific location, their opportunity to earn more is reduced. In case you want to continue for more hours, you can ask for a quote from the electricians who visit your place.
What should I do if an appliance continuously blows a fuse?
First, make sure there are not too many appliances plugged into one circuit, as this can overload it. If it's just one appliance, unplug it and either replace it or call us to repair it. You could also try connecting another appliance to the problematic receptacle. If it still shows signs of trouble, have the receptacle and or the circuit checked by our home electrical service experts.
What does a fishy smell coming from my outlet mean?
If you notice a smell coming from your outlet or switch, there's a good chance your receptacle could be damaged. Turn off the power immediately and call our home electrical service experts.
Will I have to wait in all day for an electrician to Attend?
We always try our absolute best to inconvenience you as little as possible. We aim to book a pre-arranged date and time with you, although sometimes, we may have to offer you a morning or afternoon slot. If your job is urgent, we may be able to call you at short notice if we get a cancellation.
What training does your partner have?
Our team are fully qualified in their respective fields. All staff members attend in-house training courses regularly, and health & safety is continually assessed. Please see our accreditations page for details.