Home Painting Service
Looking for a reliable and safe way to get your home painted? Look no further, Oh yes Painting Service offers our customers an extensive range of services. Choosing the right colours, products, and house painters while ensuring your family's safety can be a huge task. That's where we come in with our aim to make home painting a safe and great experience including interior and exterior home painting, deck painting and staining, wood finishing and faux finishing.
House painting services are a whole lot available around us. What make Oh yes painting services different from others are the professional and reasonable services with a quality finish. Nobody wants to put up with a mess in their personal space. No need to worry anymore. We understand your need to transform your house into a place that could impress your esteemed guests.  We provide you with assured quality workmanship. Timely service without any compromises makes us the only answer for the query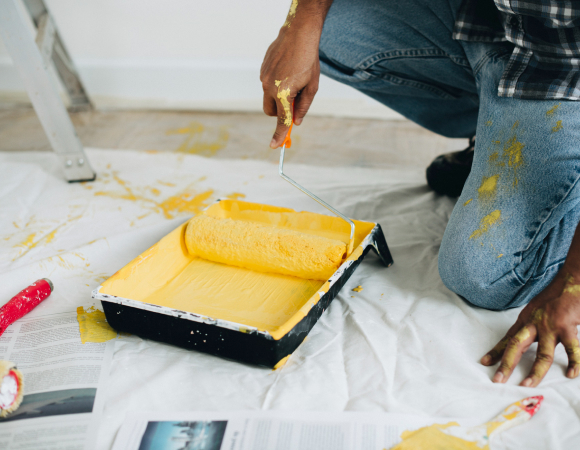 The base price details are given below:
| | Service | Sub-Category | Base Price |
| --- | --- | --- | --- |
| 01 | BELOW 1000 SQFT | RESIDENTIAL BUILDING | 4-6.5 |
| 02 | BELOW 1000 SQFT | COMMERCIAL BUILDING | 4.0-6.0 |
| 03 | ABOVE 1000 SQFT | RESIDENTIAL BUILDING | 4.0-6.0 |
| 04 | ABOVE 1000 SQFT | COMMERCIAL BUILDING | 3-6 |
| | | | |
FAQ For Painting
When you should paint your house?
There is no timeline for every home is different. In normal cases you'll need to paint every four to five years, depending on factors such as where you reside, climate, and weather
Can The Products Be Applied During Rainy Season?
Well, every product has its own drying time. And it's quite risky to paint during the rainy season. If in case, you go ahead with the painting and it rains heavily, not allowing enough time for the paint to dry, you might have to face problems. Hence, we recommend you to observe the weather condition and then go ahead with painting.
What Are Emulsions?
Emulsions are acrylic based paints, which are water based. These are available for Interior Wall surfaces as well as Exterior Wall surfaces.
What Are Primers And Putty?
Primers and putties are applied on the paintable surface before the final paint is applied. Before you apply putty or primer you have to sand the wall with sandpaper. Putty is a kind of paste prepared for applying on walls to fill in any minor dents or to level the surface. Since putty is absorbent, a coat of paint applied directly over it would lead to the paint being absorbed unevenly, leading to patches  A primer layer on top of the putty is a must. It takes away the unevenness caused by putty and the final paint comes out perfect. Thus, you get both protection and good finish.
What Is The Role Of Primer Paint?
Primer paint is a preliminary layer of coating that is applied on the materials prior to the paint. It ensures that the paint adhesion to the surface is proper, enhances the durability of paint, and imparts extra safety to the surface being painted. Primer also seals pores in permeable materials, and averts bleeding from knots. Of suitably applied, primers will enhance the life of the paint, and also improve its appearance.
Can One Mix Paints By Themselves?
Avoid mixing paints yourself.  Buy readymade paints as far as possible, otherwise there will be patchy and inconsistent columns in the finish.
Can Paint Be Applied Directly On Putty?
We recommend you do not apply finished paint directly over putty; otherwise you will get an uneven finish. Always apply a coat of primer over putty and then the final coat.
What Is The Difference Between Emulsion And Enamel?
Emulsion paint is water based with some additives to make it more durable, but can usually be scrubbed off with water and detergent. Enamel paint is solvent based, and permanent. It can only be removed with a solvent. Use emulsion to cover large surfaces cheaply and where you may want to change the colour – use enamel paint (which is much more expensive).
How much do house painters charge per day?
Labour costs for painting depend on region, season, type of painting project, and experience level. On average, you can expect to pay around ₹1100 – ₹1200 for labour per day for home painting service in Kerala.