Cleaning
Oh yes helps you with cleaning of a messy home. Professionals are available at the best rates.  We have made it easy for you with our expert partners near you, and the cleaning service is available at the best prices. No more mess in your living spaces and no more bargaining
Our cleaning experts will make your home ready for any occasion. The service partners will do the work on-demand. They will come to your home with the latest equipment and make everything neat and tidy. They will remove all the stains and dirt from the indoors. Our experts will ensure that all the rooms in your home are clean. You can schedule the service according to your convenient time. Oh yes makes sure to reach on time and complete the work without any trouble.
Our expert cleaning service partners will dust, vacuum, and mop the house. They will also clean the windows and glass. The service is apt to provide the necessary cleaning for your home. The rates for service vary according to the cleaning required. Avail our service now and get professional cleaning agents without hassle.
A typical premium house cleaning checklist looks like this:
Vacuuming carpets and floors
Sweeping and mopping floors
Emptying trash
High and low dusting
Cleaning door handles and light fixtures
Dusting windows, window sills and ledges
Changing linen (often as an additional service)
Cleaning kitchen appliances on the outside (the microwave is cleaned inside as well)
Wiping countertops and outside of the kitchen cabinets
Cleaning and disinfecting the toilet
Cleaning the sink, bath tubs and/or showers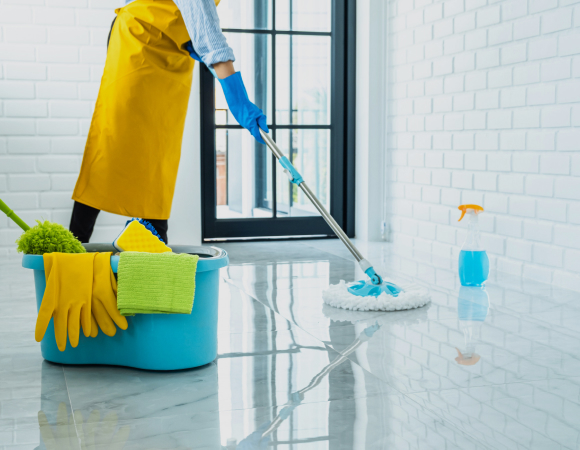 Bathroom deep cleaning
Removal of hard water stains, yellow spots, etc. using & harmless chemicals
Kitchen deep cleaning
Removal of oil/grease stains from floor, tiles & stove. Includes cabinets interior cleaning
Living Room & bedroom cleaning
Dry dusting of ceiling, ceiling fans, switchboards, windows, doors
Hard to reach spot's cleaning
Dry dusting, removal of cobwebs from walls, windows, etc. & balcony cleaning
Cleaning Terms and Conditions
Rates given are approximate estimate based on average size of flats, rates may vary based on requirements and area. Rates of Villas and Independent houses will be comparatively higher than that of apartments. The charges given are strictly based on specifications and there can be variations due to area and effort required. Please detail the requirements with our Service Partner to get the final estimate.
Sofa cleaning
Food crumbs, stationery, coffee/tea stain, dust bunnies, and more…? Now you can easily get rid of all the dirt and stains with a little help from Oh yes. Our expert sofa cleaning services will take your worries away and will give you a clean living room. No more worries about guests finding your hidden secrets. Our services are available in the city and nearby areas Don't worry; our sofa cleaning experts will transform your sofa into its former beautiful self, worthy of your home. Our partners use the best products and equipment to clean your sofas.
The base price details are given below:
| | Service | Sub-Category | Base Price |
| --- | --- | --- | --- |
| 01 | CLEANING | WATER TANK | 1000 |
| 02 | CLEANING | AFTER PARTY CLEANING | 2000 |
| 03 | CLEANING | BUILDING CLEANING | 5 (sqft) |
| 04 | CLEANING | FULL HOUSE CLEANING | 5 (sqft) |
| 05 | CLEANING | EXTERIOR CLEANING | 5 (sqft) |
| 06 | CLEANING | PEST CONTROL | 2 (sqft) |
| | | | |
Faq For Cleaning
What is included in a standard cleaning of a house?
A typical cleaning service can include dusting and vacuuming floors, wiping down surfaces in the bathroom and kitchen, emptying trash cans, scrubbing sinks and toilets, washing dishes and doing laundry (double check during booking), and cleaning out difficult to reach areas like under beds.
What do I need to do before home deep cleaning service?
We request you to remove all the expensive and valuable items from the cabinets and the wardrobes before the internal cleaning begins. Anything kept outside or in a showcase or a trolley also needs to be removed. Apart from this, we recommend you have a detailed discussion with the assigned professional so you can communicate your expectations from the service.
What does home deep cleaning not includes?
If you book the home deep cleaning service from Oh yes, here is what is not included in the service: cleaning of utensils, walls and ceiling, floor polishing, wet shampooing of blinds, chair, sofa and carpets & polishing of wooden furniture.
Do I need to leave my home during the cleaning process?
No. You can stay in your home during the entire process and our professionals will take care of your comfort.
Will any additional rooms (store/study) get cleaning in this service?
Yes. If there are additional rooms in your home, they can get cleaned at extra charges.
What will happen if there is no electricity at my home during the service?
In such cases, customers can get the service rescheduled with the help of Oh Yes customer care
Will the professionals follow all safety measures?
Yes. Ours professionals will take all the necessary measures like social distancing, wearing a mask, etc.
Will the professional restocks or rearranges the furniture and objects back to their place?
Yes. In all three services, the furniture and other objects will be reorganized in the original manner.
Only, cupboard's objects won't be rearranged.